THE EXPAND-A-LUNG® DUAL PURPOSE SNORKEL $29.95 / FREE SHIPPING
•       Use it with the inhale/exhale adjustable breathing resistance valve for the best swimming breathing endurance workout.  Improves lung function, increases breath-hold capacity and sustained stamina for all endurance sports.
•       The adjustable breathing resistance valve can be easily pulled out from the top, to convert it to a regular diving snorkel. Simply push the valve back into the snorkel for your surface swimming breathing resistance endurance workouts.
•        Widely used by swimmers, triathletes and freedivers. Superior breathing resistance exercise for all endurance sports.
•       Try it for up to 60 days and if for any reason you're not satisfied, you can return it for a full refund.  (3 year full warranty for parts and labor)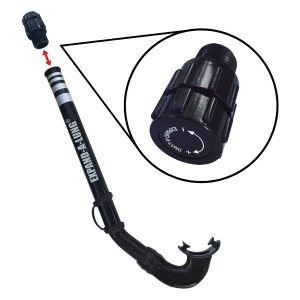 CLICK HERE TO CHECK OUT OUR NEW PRODUCT INTRODUCTION




THE EXPAND-A-LUNG® DUAL PURPOSE SNORKEL $29.95

/ FREE SHIPPING