The #1 Breathing Fitness Trainer

For Athletes and Respiratory Care
Used By Navy Seals!
MADE IN THE U.S.A.
BUY DIRECT FROM THE MANUFACTURER (5 YR. WARRANTY)
U.S.A orders $29.95 Free Shipping
International Orders $39.00 Includes Shipping
SPECIAL OFFER BUY 3 GET 1 FREE
PROVIDES ALL LEVELS OF RESISTANCE FOR INHALING AND EXHALING EXERCISE
The Expand-A-Lung® inspiratory/expiratory breathing resistance trainer is a breakthrough product for improving endurance through better breathing and lung function. Research supports that this breathing exercise significantly improves the strength of respiratory muscles, and increases the volume of lung oxygen intake. The end result is deeper, easier and better breathing for a superior endurance performance and longer breath holding capacity.
As every competitive athlete knows, the body's demand for oxygen substantially increases during any form of sustained high intensity exercise. VO2 Max defines the climax of muscle oxygen delivery before CO2 levels rise. At this point, muscle performance decreases and shortness of breath increases. This is what the Expand-A-Lung® targets and improves.
It is also an excellent exercise for COPD patients to get rid of the trapped air in the alveoli for better gas exchange. This will surely improve breathing and reduce shortness of breath.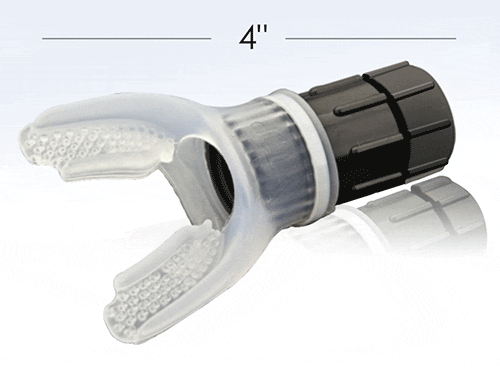 SELECTED THE #1
BREATHING FITNESS
TRAINER BY
THE L.A. TIMES
AND FEATURED IN THE
FOLLOWING
SPORTS MAGAZINES:
RUNNER'S WORLD
TRIATHLETE
AUSTRALIAN TRIATHLON & MULTISPORT
VELONEWS
INTERNATIONAL FREEDIVING
HAWAII SKIN DIVER
FREESURF HAWAII
THE BOX CROSSFIT
BLACK BELT MARTIAL ARTS
INTERNATIONAL KICKBOXING
RATED ABOVE ALL OTHER BREATHING EXERCISERS
AND ELEVATION TRAINING MASKS
THE EXPAND-A-LUNG® PROVIDES THE FOLLOWING ADVANTAGES WITH A SINGLE MODEL
The Expand-A-Lung® provides both inspiratory and expiratory resistance for inhaling and exhaling. You also have 100% flexibility to control all levels of resistance by simply opening or closing the adjustable resistance valve. Furthermore, the Expand-A-Lung® is superior in the following areas:
MOST EFFECTIVE
The Expand-A-Lung® offers the widest range of inspiratory/expiratory resistance levels to meet anyone's needs. From low resistance for respiratory rehab patients, gradually increasing to a high resistance level for competitive athletes. No other breathing trainer product can achieve this range with a single model.
MOST COMPACT
The Expand-A-Lung® is only 4″ tall. You can take it anywhere, and use it anywhere. (Pocket Size). The most compact respiratory muscle trainer in the market!
EASIEST TO USE
Only one moving part. Turn the valve to the left to decrease the air flow in order to create more resistance. Turn it to the right for the opposite. (See exercise instructions tab)
MOST DURABLE
Heavy duty plastic construction and 100% rust proof. You can run it over with your car, and it will not break! (Don't try this with the competitors' devices)
MOST COMFORTABLE
The flexible medical grade silicone mouthpiece is the most comfortable and provides the best fit and seal. Once in your mouth, you don't even need to hand hold it unless you want to change the resistance level.
BEST PRICE
U.S.A orders $29.95/Free Shipping
International Orders $39.00/Includes Shipping
"Buy 3 Get 1 Free Promotion"
BEST WARRANTY
5 yr. Full Warranty for parts and labor + Risk Free Guarantee! If for any reason you're not satisfied, just return it for a full refund within 45 days.
BEST REVIEWED
Over 8,000 unsolicited positive testimonials on top of countless positive media reviews. Selected #1 breathing fitness exerciser by the L.A. Times review.
THE BEST 7 MINUTE RESPIRATORY EXERCISE
TO BOOST YOUR ENDURANCE
The EXPAND-A-LUNG® breathing resistance exercise of inhaling (inspiratory) and exhaling (expiratory), will provide two very important benefits.
1) IMMEDIATE BENEFIT: It will open up the airways into your lungs that have been partially obstructed over the years, due to natural aging, pollution, poor physical condition, and smoking (if applicable).
2) LONG TERM BENEFIT: It will target and develop the respiratory muscles (the diaphragm and intercostals) to help you inhale more volume of air/oxygen into your lungs, and to exhale more carbon dioxide out of your lungs.
THE END RESULT IS DEEPER, EASIER AND BETTER BREATHING FOR A MORE RELAXED AND SUPERIOR ENDURANCE PERFORMANCE, WITH LONGER BREATH HOLD CAPACITY.
-ARTICLE BY : GINA DEMILLO WAGNER – (RUNNER'S WORLD MAGAZINE)
"Runners think about training their heart and legs, but they rarely think about training their lungs," says Mindy Solkin, owner and head coach of The Running Center in New York City. "A strong respiratory system can improve your running. It's a simple equation: Better breathing equals more oxygen for your muscles, and that equals more endurance."
This was backed up by researchers from the Centre for Sports Medicine and Human Performance at Brunel University in England, who recently measured fatigue levels of marathoners' respiratory muscles and leg muscles. They found a direct link. Runners whose breathing was the most strained showed the most leg weakness, and concluded in their study that the harder the respiratory muscles had to work, the more the legs would struggle in a race.
– ARTICLE BY : JOHN HOWARD – (TRIATHLETE MAGAZINE)
" When training only your respiratory muscles, the diaphragm, and intercostals, you will increase both lung strength and capacity, which translates into increased oxygen uptake without beating up the rest of the body."
"One of the most impressive benefits of correct breathing is the profound relaxation it brings on, meaning it allows the athlete to maintain a high work rate while remaining calm and comfortable."
John Howard is a former Hawaii Ironman champion, three-time cycling Olympian, multiple national cycling champion, and coach at johnhowardschool.com.
SPECIAL PROMOTION
BUY 3 GET 1 FREE
$89.95/FREE SHIPPING USA