THE EXPAND-A-LUNG® TRAINING SNORKEL $27.95 / FREE SHIPPING
•       Use it with the inhale/exhale adjustable breathing resistance valve for the best swimming breathing endurance workout.  Improves lung function, increases breath-hold capacity and sustained stamina for all endurance sports.
•       The adjustable breathing resistance valve can be easily pulled out from the top, to convert it to a regular diving snorkel. Simply push the valve back into the snorkel for your surface swimming breathing resistance endurance workouts.
•        Widely used by swimmers, triathletes and freedivers. Superior breathing resistance exercise for all endurance sports.
•       Try it for up to 60 days and if for any reason you're not satisfied, you can return it for a full refund.  (3 year full warranty for parts and labor)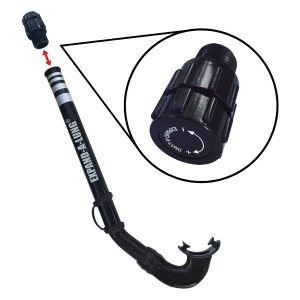 IMPORTANT
WHEN VALVE IS INSERTED, SNORKEL SHOULD BE USED FOR SURFACE SWIMMING ONLY. START YOUR BREATHING RESISTANCE SWIMMING TRAINING AT THE MINIMUM LEVEL OF RESISTANCE. INCREASE THE RESISTANCE VALVE SETTING GRADUALLY ONLY IF NEEDED. (80% OF USERS LEAVE IT AT THE MINIMUM LEVEL OF RESISTANCE)
MAKE SURE TO REMOVE THE VALVE FROM THE TOP OF THE SNORKEL BEFORE YOU USE IT FOR DIVING UNDERWATER.
BUY DIRECT FROM THE MANUFACTURER