The #1 Respiratory Fitness Exerciser
For COPD Respiratory Care
MADE IN THE U.S.A.
BUY DIRECT FROM THE MANUFACTURER


U.S.A orders $29.95 

Free Shipping


International Orders $39.00 

Includes Shipping


SPECIAL OFFER 

BUY 3 GET 1 FREE
"BREATHING RIGHT IS UNQUESTIONABLY THE SINGLE MOST IMPORTANT THING YOU CAN DO TO IMPROVE YOUR LIFE. IT WILL HELP YOU TO LIVE A LONGER MORE ENERGETIC AND STRESS-FREE LIFE".
– DR. SHELDON HENDLER
Enjoy the same BREATHING TRAINING benefits as the #1 selling EXPAND-A-LUNG® Breathing Resistance Exerciser while you're swimming!
Use THE EXPAND-A-LUNG® SNORKEL with the inhale/exhale adjustable breathing resistance valve for the best swimming breathing endurance workout. Improves lung function, increases breath-hold capacity and sustained stamina for all endurance sports.
The adjustable breathing resistance valve can be easily pulled out from the top, to convert it to a regular diving snorkel. Simply push the valve back into the snorkel for your surface swimming breathing resistance endurance workouts.
Widely used by swimmers, triathletes and free-divers. Provides superior breathing resistance exercise for all endurance sports.
Try it for up to 60 days and if for any reason you're not satisfied, you can return it for a full refund. (5 year full warranty for parts and labor)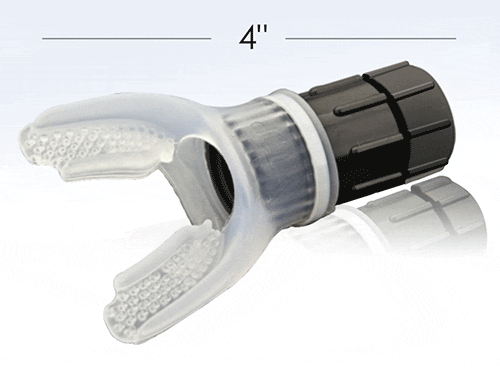 SELECTED THE #1
RESPIRATORY FITNESS
TRAINER BY
THE L.A. TIMES
ONLY THE EXPAND-A-LUNG® OFFERS THE SIMPLEST
AND MOST EFFECTIVE DESIGN
THE EXPAND-A-LUNG® PROVIDES THE FOLLOWING ADVANTAGES WITH A SINGLE MODEL
The Expand-A-Lung® provides both inspiratory and expiratory resistance for inhaling and exhaling. You also have 100% flexibility to control all levels of resistance by simply opening or closing the adjustable resistance valve. Furthermore, the Expand-A-Lung® is superior in the following areas:
MOST EFFECTIVE
The Expand-A-Lung® offers the widest range of resistance levels to meet anyone's needs. From low resistance for respiratory rehab patients, gradually increasing to a high resistance level for competitive athletes. No other breathing trainer product can achieve this range with a single model.
MOST COMPACT
The Expand-A-Lung® is only 4″ tall. You can take it anywhere, and use it anywhere. (Pocket Size). The most compact respiratory muscle trainer in the market!
EASIEST TO USE
Only one moving part. Turn the valve to the left to decrease the air flow in order to create more resistance. Turn it to the right for the opposite. (See exercise instructions tab)
MOST DURABLE
Heavy duty plastic construction and 100% rust proof. You can run it over with your car, and it will not break! (Don't try this with the competitors' devices)
MOST COMFORTABLE
The flexible medical grade silicone mouthpiece is the most comfortable and provides the best fit and seal. Once in your mouth, you don't even need to hand hold it unless you want to change the resistance level.
BEST PRICE
U.S.A orders $29.95/Free Shipping
International Orders $39.00/Includes Shipping
"Buy 3 Get 1 Free Promotion"
BEST WARRANTY
5 yr. Full Warranty for parts and labor + Risk Free Guarantee! If for any reason you're not satisfied, just return it for a full refund within 45 days.
BEST REVIEWED
Over 8,000 unsolicited positive testimonials on top of countless positive media reviews.
Selected #1 breathing fitness exerciser by the L.A. Times review.
U.S.A Orders $29.95
Free Shipping
International Orders $39.00
Includes Shipping
SPECIAL OFFER
BUY 3 GET 1 FREE
BUY DIRECT FROM THE MANUFACTURER